We are thrilled to announce the launch of our brand new Console, meticulously designed to revolutionize your database management experience like never before. Packed with a host of cutting-edge features, this upgrade brings you unparalleled control, seamless functionality, and blazing-fast performance – all at your fingertips.
Over the past years, we have diligently collected your valuable feedback on our services. Drawing from your insights, we embarked on an extensive redesign endeavor to deliver a game-changing release that addresses your evolving needs.
What is new?
Key highlights of the new Console include:
Enhanced Billing. Our billing system is now prorated to the hour, accompanied by an array of visibility options that provide comprehensive insights into your usage and associated costs.
Revamped Snapshots. We have completely rebuilt the Snapshots feature, empowering you with the ability to choose from various policies for extended retention or frequency. Snapshots are now more flexible, enabling you to disable them if desired, while also significantly improving their creation and restoration speeds.
Advanced Team Management. We have introduced Organizations and Environments, enabling you to efficiently group your deployments and regulate access rights with greater granularity.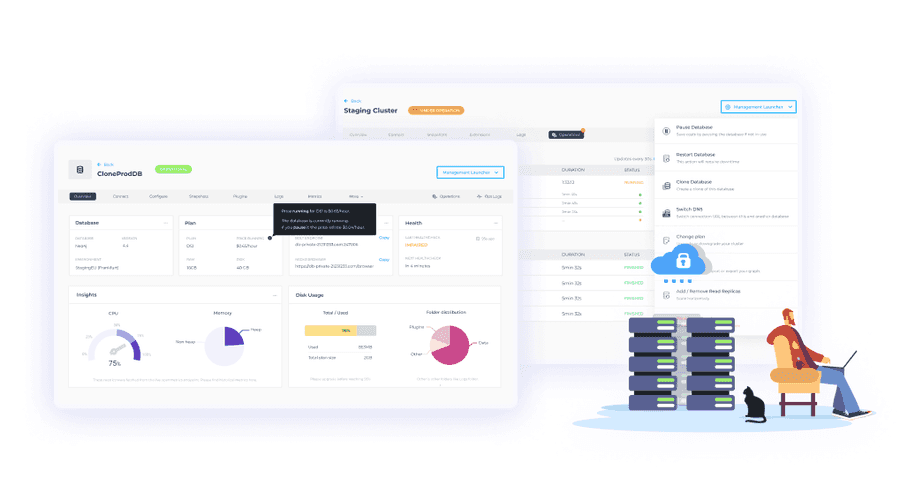 Moreover, numerous other management features have been added, including the Pause Databases functionality, which allows you to optimize costs during periods of database inactivity.
This provides merely a glimpse into the extensive changes that await you.
Get Started Today
If you're a user of our old Console, you should have received instructions on how to migrate. If not please reach out and we'd love to walk you through it. If you're new around, welcome, just create your first Organization and get $50 in credits to evaluate our Services.
Moving forward
At GrapheneDB, we're dedicated to constantly improving our services and providing you with the tools you need to succeed. We are excited to take this leap forward with our new Console, and we can't wait for you to try it out.
Thank you for your continued support, and stay tuned for more exciting announcements in the near future.