In the Database Insights view, GrapheneDB provides you with visibility into the deployment and underlying server. The metrics that you have visibility into are as follows:
To access this view, please navigate to the Organization > Environment where the specific database is placed, and click on the database you want to look into the metrics for > Insights tab.
To choose a specific period to be displayed on the charts, you can use a drop-down menu on the right-hand side, to select it. Options for the periods to choose from are:
Last hour
Last 3 hours
Last 7 hours
Last 24 hours
Last 3 days
Last 7 days
Last month
After you select the period, you can easily hover over any metric and you'll see the information for all metrics, for the exact same time stamp selected.
Healthcheck and OOMs
Health checks is basically showing the result of the health check GrapheneDB does to your database http endpoint (for singles) and status endpoint (for clusters). The OOMs metric shows the number of times OOMs occur for that time window. Important to note is that when the database is paused, the health check metrics are not pulled, so you will see the state as orange instead of green. OOMs will be displayed in red.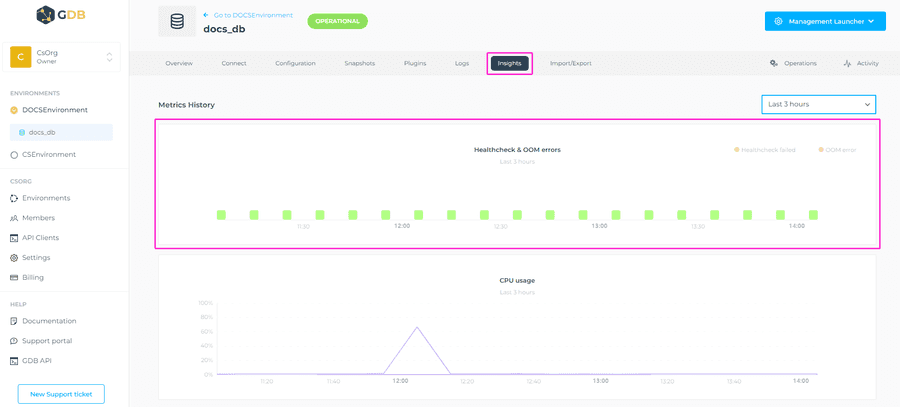 CPU usage
This metric shows you the percentage of the server's CPU that is being used by the deployment. Please keep in mind that the OS has a little amount of CPU designated for it, so when this metric is set to 100%, it means that the deployment process is utilizing all available CPU, not the entire server.
Memory usage
The memory usage Metrics will show you the used and available memory of your instance. You can hover over it to check the memory usage for the specific time stamp and get detailed information.
Network
Network metrics are allowing you to have an insight into how much traffic is transmitted or received at specific time frame or at specific time stamp. Like with other Metrics, simply hover over it to find the detailed information.
Disk I/O
This metric will show you how much data is read or written at specific time stamp. When you select the desired period, you can hover over it to see exact details.